Syverkstaden är aktiv om kvällarna- dock kommer jag aldrig mer ge mig på att sy triangelmönster själv. Men nöjd över min stjärnkudde är jag allt. Hittade en anslagstavla på Ilva som jag pillade bort tyget från och sydde på en baksida som är omlott. Vips var det en kudde för 250 istället för 450 i mindre storlek!
Carl finns närvarande i vårt hem. Min ena lilla schackrutiga kaffekoppshylla som jag tillverkat i Elfasystemet blev väldigt lyckad. Där står Carl i väntan på att få transporteras in i barnens rum. Men FreddieCarl känns så harmonisk där han lutar avslappnat mot väggen.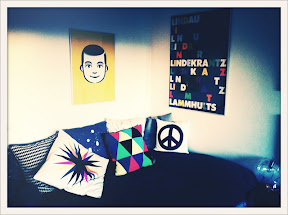 Min soff/sänghörna har nu fyllts på och sängen är omklädd för att likna mer soffa än säng. Funkar bra tycker jag! Skall försöka få fram en och annan bild på resterande projekt. Imorgon blir det till att riva ner tapet i hallen! Som jag längtar NOT!!!!!!!!
Tack för alla väälkomnande kommentarer. det triggar igång ens inspiration ännu mer. Illustrationerna börjar växa i mitt inre på samma gång så nya produktioner hoppas jag på inom kort!
The sewing is taking place in my tiny little kitchen. New pillowcases and a fitted cover for my bed which makes it more like a sofa than a bed. Carl is keeping the good mode in my new apartment and the inspiration is in a good flow. I will never sew a triangle pillow case on my own any more.
Tomorrow I am preparing myself to tear wallpapers down in my hall way. I am hoping the painting will take place this weekend.